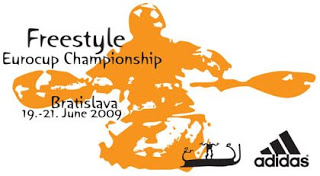 x










Sourse www.kayak.sk

Event program
Piatok, 19. jún
oficiálny tréning od 14:00 do 19:00

Sobota, 20. jún
kvalifikácia a štvrťfinále (od 8:00 do 19:00)
koncert a party (od 20:00)

Nedeľa, 21. jún (od 8:00 do 19:00)
semifinále a finále
+ finálový pretek slovenského
Kayak & Canoe Cross 2009


Friday, 19-th
free trainings from 14:00 till 19:00

Saturday, 20-th
qualifyings and from 8:00 till 19:00
concert and party from 20:00

Sunday, 21-st from 8:00 till 17:00
semifinals and finals
+ final race of Slovak Kayak & Canoe Cross 2009


Individuálne tréningyIndividual trainings
Individuálne tréningy budú možné aj v
dňoch pred podujatím. Časy a ceny
zverejníme tu v najbližšom možnom čase.
Individual trainings will be possible. Days, times and prices will be announced here ASAP.
Oficiálny tréningOfficial training
Officiálne tréningy sa začínajú v piatok,
19. júna od 14:00, pripravujeme termíny
tréningov aj mimo oficiálneho času.
Prostredie je vhodné na bicyklovanie,
korčulovanie, plážový volejbal a iné
aktivity. Sauna, fitnes a klub k
dispozícii v "Paddler Hostel**"
Official playspot trainings from Friday 19-th, from 14:00. Prior to official trainings playspot available too. Area is perfect for bike, inline skates, beach volleyball. Sauna, fitness and club available at "Paddler Hostel**"
Registrácia cez internetInternet registration
Internetovú registráciu pripravujeme,
plánované spustenie je 1.6.2009
We are preparing internet registration form. Expected launch time is 1.6.2009
ŠtartovnéStarting Fee
Eurocup
30 EUR, prihláška cez internet
do 16.6.2009
25 EUR, člen ZVaR pred 15.5.2009
a zároveň prihláška cez internet do
16.6.2009
35 EUR - všetky ostatné registrácie

Kayak & Canoe Cross
2 EUR, pre každého kto zaplatí ktorékoľvek
štartovné Eurocup
7 EUR, pre členov ZVaR alebo účastníkov
1. alebo 2. kola Kayak & Canoe Cross,
a zároveň prihláška cez internet do 16.6.2009
10 EUR, všetky ostatné registrácie

Kaucia za štartovné číslo 20 EUR.
Eurocup
30 EUR, registration via internet latest by 16.6.2009
25 EUR, only for slovak members of ZVaR under limited conditions.
35 EUR - all other registrations

Kayak & Canoe Cross
2 EUR, anyone who pays any Eurocup fee
7 EUR, national members of ZVaR or previous Kayak & Canoe Cross racers, and registration is recieved via internet untill 16.6.2009
10 EUR, any other registrations.

Deposit for start number 20 EUR.
Vlna v ČunovePlayspot at Čunovo
22 km od centra mesta sa nachádza jeden
z najlepších európskych umelých kanálov
s obtiažnosťou až do WW-IV a vlnou
vhodnou na freestyle.
Na kanáli sa uskutočňujú profesionálne
podujatia ako Majstrovstvá sveta vo
vodnom slalome, Svetový pohár, Európsky
pohár v raftingu a mnoho iných podujatí.
Freestylová vlna, ktorá prešla prestavbou
v roku 2008, hostí národné freestylové
preteky už od roku 2000.
Bezpečný breh a dno kanála, čistá voda,
vracák na oboch stranách s jednoduchým
nástupom do vlny, v ktorej sú možné
takmer všetky triky a pohyby.
22 km from town center, one of the best artificial whitewater course class up to WW-IV with unique playspot. Facilities for world rank professional events such as World Slalom Championship, World Cup, Rafting Eurocup and many more.
Freestyle hole remastered in 2008, hosting national freestyle events since year 2000.
Safe shore and stream bed, clean water, both holeside eddy with easy access to hole with any move and tricks possibility.