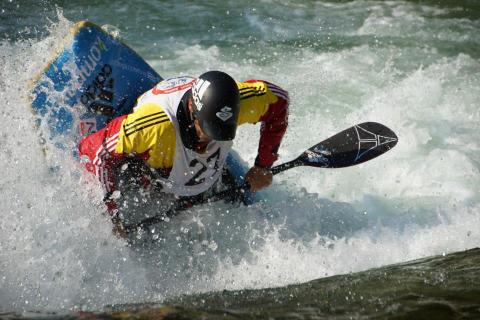 The final World cup in freestyle kayaking.
After the Salt, the second World cup we moved to Sort where the final competition took place. We had only few days for training and the hole was super difficult and big. Lets say in one edge it was a huge nasty hole where all the were difficult and on the other side was a small hole really shallow and super flashy. Not good for my carbon boat. It means everybody can have a good day or bad day and mess up the rides, or to be a star. I had pretty good training rides, of course some of them were also for almost zero points because I flashed from the wave, but it was like that for most of the kayakers. The smaller sized paddlers had definitely more advantage in this spot, not to flashing out after the difficult moves as the bigger ones. At the qualification my first ride was not that awesome, I managed only 10 points :) , it is probably my record in the low scored rides since my start. My second ride was much better and I got scored the second biggest score. The first cut was pretty much easy because many people find the hole really bad and had really low scored rides.
The cut was almost with one big move. Even the top kayakers in compare to Salt scores had low scores , I had in salt 1400 from one ride and in Sort only 800 combined from two rides which means the hole is really difficult. The semifinals were really tight and to get into the top 5 is really difficult between all the great kayakers like Dane, Matt, Nick and many others. Everybody is pushing super hard and the level of freestyle kayaking is higher every year. Unlucky but I didn't made the cut into the finals, I was flashing on my moves and could not stick what I was planing to do. Well it wasn't my day. Matt and Nick team Adidas made it to the top five with Dane, Jason and Seb. The finals were on saturday night with the artificial lights. I don't really like it, but for sure it is looking good for the media. In the finals Dane made it to the first place Matt was second and Nick third.
The world cup is over and now we can move forward again. I mean I think I did well in Salt but sometimes you are up and sometimes down and in the Sort it just wasn't my day.
I was hurry home to help Nina with my son Peter and have fun with them.
Next stop is the Wildalpen freestyle.
See you later
Peter