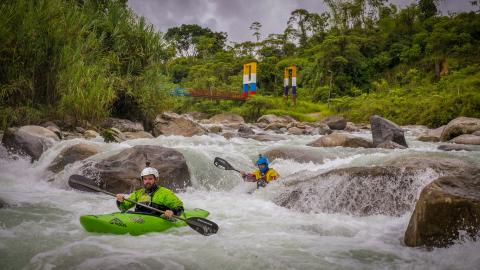 We are already back home from amazing Ecuador, sorting all photos and videos and all memories are coming back to us.
This trip was very special to me. It was my first time in Ecuador, first time without my son for two weeks! I run some difficult rivers (difficult for me of course), which I wouldn't run before. I even swam out of my kayak, it was after very long time. I was traveling with bus at 4040 meters above sea. That was unbelievable!
All this trip was a such a good experience. I think all of us had a blast! We run rivers almost every day. Guys jumped great 14 meters high waterfall Hollin. I run Jondachi river, which was my highlight of a trip. You can do it in 2 hours but if you want to scout the rapids it take you a about 4 hours. For me it was 4 hours of constant focusing and hard paddling. Guys showed me the lines to go thru and I run it best I could. After I get finally to take out I was really happy and excited. I couldn't stop talking about it. Right after I get out of my kayak I told to guys that If I know it is so difficult I will not go ...but now I know it was totally worth it. Beautiful river where you can't get by your feet. Untouched nature and wild river, that's what you can enjoy for few hours. But be careful there is almost no way out except down the river. This river stay in my heard. I went out of my comfort zone and pushed my limits. Maybe if I read it in few years I will laugh at it but at that moment I felt very proud of myself. Next day all of us needed relax and what you can wish for as to go to hot springs under volcano. Laying in hot water and looking at snowy peak of volcano in more than 3000 meters above see is such a special feeling.
We had to repeated it few more times since we left Ecuador.
We have many plans where to go and which countries to visit. There are so many beautiful places with wild rivers at the World where we weren't yet but I hope once again I will have a chance to go back to Ecuador, and hopefully next time we go there with our little kayaker as well.
Cheers
Nina